Last Updated
One of the biggest draws of Punta Cana for Americans is just how incredibly connected it is to the contiguous United States. There are many large population centers that fly direct, and with so many options, it's no surprise that Americans are the number one tourists by visitor numbers in Punta Cana!
These are all the U.S. cities with direct flights to Punta Cana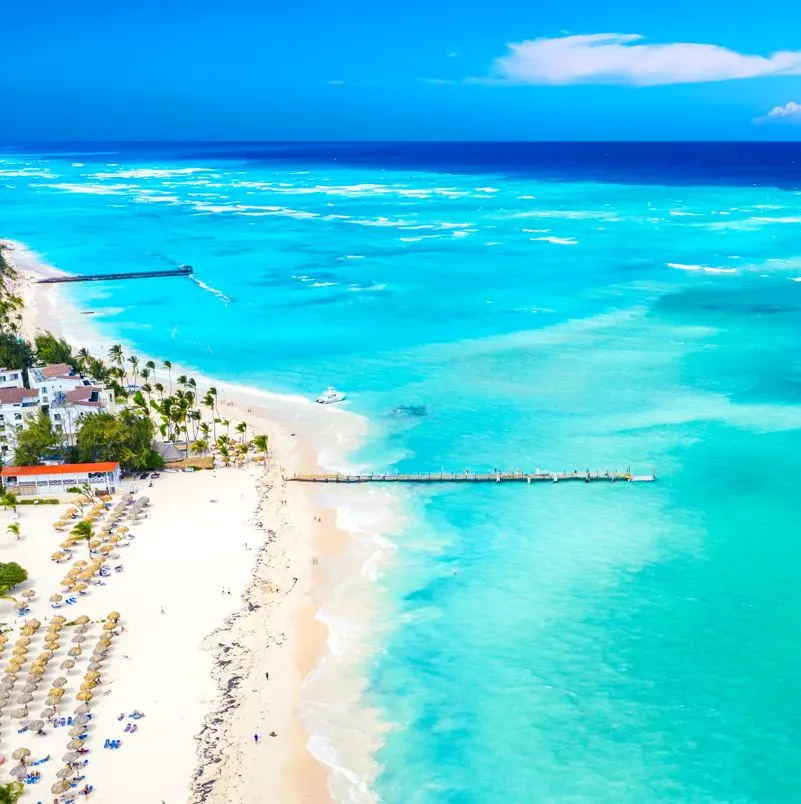 Florida
The sunshine state and the Dominican Republic are practically neighbors, and with three cities flying direct, Punta Cana is an easy journey for all Floridians:
Miami – Miami International Airport (2h 38)
Fort Lauderdale – Fort Lauderdale-Hollywood International Airport (2h 38)
Orlando – Orlando International Airport (3h 12)
To put that into perspective, the flight to Punta Cana from Miami is faster than the drive from downtown Miami to Cape Coral!
Flights from Miami to Punta Cana can be snapped up for as little as $344 for a roundtrip with American Airlines!
Sample dates for airfare:
Texas
Those wanting to swap the Lone Star State for a few weeks in the Caribbean have even more options than Floridians. The following cities all fly direct to Punta Cana:
Houston – Hobby Airport (4h 30)
Houston – George Bush Intercontinental Airport (4h 47)
Austin – Austin-Bergstrom International Airport (5h 05)
Dallas/Fort Worth – Dallas/Fort Worth International Airport (5h 26)
Texans who want to experience the white sand beaches of Punta Cana are spoilt for choice. Dallas/Fort Worth and Houston have daily flights, while Austin is connected with flights every Saturday.
From George Bush Intercontinental Airport to Punta Cana, flights can be found for a roundtrip total of $641.
Sample dates for airfare:
February 25th to March 4th 2023
Top 5 Travel Insurance Plans For 2023 Starting At $10 Per Week
Easily Earn Points For Free Travel
Georgia
Residents of Georgia state don't get left behind. With daily flights and multiple airlines, vacation planning is a breeze for the Peach state:
Atlanta – Hartsfield-Jackson Atlanta International Airport (3h 53)
With a flight time almost an hour faster than the drive from Atlanta to Charleston, SC. The beaches of Punta Cana are closer than the Atlantic seaboard!
It's not difficult to find a bargain either, roundtrip airfare can be booked for the surprisingly low price of $380!
Sample dates for airfare:
North Carolina
Considering North Carolina is the home of Aviation, where the Wright brothers first took flight, it's only natural the state has a direct flight to beautiful Punta Cana:
Charlotte – Charlotte Douglas International Airport (3h 47)
Flights from Charlotte are operated by American Airlines, so travelers know they're going to receive great service.
A roundtrip is available from $869, although better prices can often be found with package deals.
Sample dates for airfare:
Washington D.C.
The home of American democracy has one of the best-connected airports in the world, and with daily flights to Punta Cana, residents of the capital are one flight away from paradise:
Dulles International Airport (3h 54)
United Airlines operates daily flights between the two destinations, with a roundtrip costing just $573.
Sample dates for airfare:
Pennsylvania
For Pennsylvanians that have been to the liberty bell and exhausted the huge amount of American history in the state, Punta Cana is a superb vacation option:
Philadelphia – Philadelphia International Airport (3h 58)
Spirit, Frontier, and American Airlines all fly from Philadelphia, so the option to mix and match airlines to find the best outgoing and return flights is a big bonus.
For example, flying out with Spirit Airlines and returning with Frontier can get a roundtrip fare down to as little as $650!
Sample dates for airfare:
New York State
New Yorkers who have run out of Broadway shows can easily hop on a flight to Punta Cana and experience what the famous Coco Bongo shows have to offer:
New York – Newark Liberty International Airport (4h 20)
New York – John F. Kennedy International Airport (4h 18)
Those tired of the hectic traffic in New York will love the calm Caribbean vibes of Punta Cana, and with roundtrip flights available from $485, it's a bargain vacation for citizens of the big apple.
Sample dates for airfare:
Massachusetts
The old bay state doesn't have the kindest weather in Winter and Spring. Thankfully, Punta Cana is just a flight away:
Boston – Boston Logan International Airport (4h 11)
With the winter Bostonians had in 2022, the beautiful weather and relaxing world-class beaches of Punta Cana are extra welcome. A roundtrip to Punta Cana with Delta Airlines is available for $825.
Sample dates for airfare:
February 22nd to March 1st 2023
Ohio
From the 'Rock & Roll Hall of Fame' in Cleveland to the 'Hard Rock Resort' in Punta Cana, Ohioans don't have to leave the music behind to find the sun:
Cleveland – Cleveland Hopkins International Airport (4h 45)
It's easy to escape the cold winds of Lake Erie with a roundtrip to Punta Cana coming in at just $435!
Sample dates for airfare:
Illinois
The people of Illinois may be far from the coast, but with direct flights to Punta Cana the ultimate beach resort vacation is just an airfare away:
Chicago – O'Hare International Airport (5h 11)
Chicago – Chicago Midway International Airport (5h 05)
United Airlines offer a super roundtrip rate as low as $649 to Punta Cana!
Sample dates for airfare:
Missouri
Travelers who have worn out their hiking shoes in the Ozarks will find a much more relaxing vacation in Punta Cana:
St.Louis – St. Louis Lambert International Airport (5h 02)
Getting to Punta Cana is super simple from Missouri, with direct flights out of St.Louis operated by Frontier airlines costing around $420 for a roundtrip.
Sample dates for airfare:
With so many great connections and with new routes announced regularly, Punta Cana is only going to get more popular with American tourists. Travelers who aren't lucky enough to live close to a city with direct flights needn't worry. With the fantastic air travel infrastructure of the United States, the whole nation is just one connection away.
Plan Your Next Dominican Republic Vacation:
Traveler Alert: Don't Forget Travel Insurance For Your Next Trip!
Choose From Thousands of Dominican Republic Hotels, Resorts and Hostels with Free Cancellation On Most Properties
↓ Join the community ↓
Subscribe to our Latest Posts
Enter your email address to subscribe to Dominican Republic Sun's latest breaking news affecting travelers, straight to your inbox.